Child Care Provider Resources Center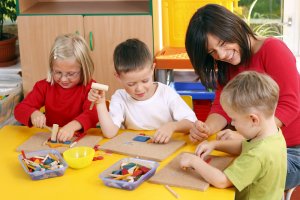 ---
The child care provider is a very special person. People who are involved in early education are special because they have a large influence on our children's lives.
We have owned our child care business for 4 years. We started off as home daycare providers and eventually transitioned into running a child care center at a commercial location. Though these two provide the same type of service, child care, they are two totally different businesses and generally require different types of resources. Here, you will see both.
What I want to do is provide a place where child care providers can find information and resources to help them become better at what they love to do. The resources center is also here to make it easier to run your business.
We hope you find this page and the resources included useful.
---
Child Care References
We are compiling a reference page for providers to have one location to find answers to their many questions. Please visit the Child Care References page and add it to your tool box of resources. It is a great page to book mark.
---
Do you receive child care assistance funds from your state?
If you don't you should consider speaking to your State or local agency on how to become a
Child Care Assistance Participating Provider
---
NAEYC RADIO
Tune-In to NAEYC Radio!
NAEYC and BAM Radio Network have partnered to bring you NAEYC Radio. Rae Pica and Mark Ginsberg host the program that will focus on a different topic each month. The progam was developed by early childhood professionals to bring the best and latest insights directly to parents and educators.
---